24th Mar 2019: World Tuberculosis (TB) Day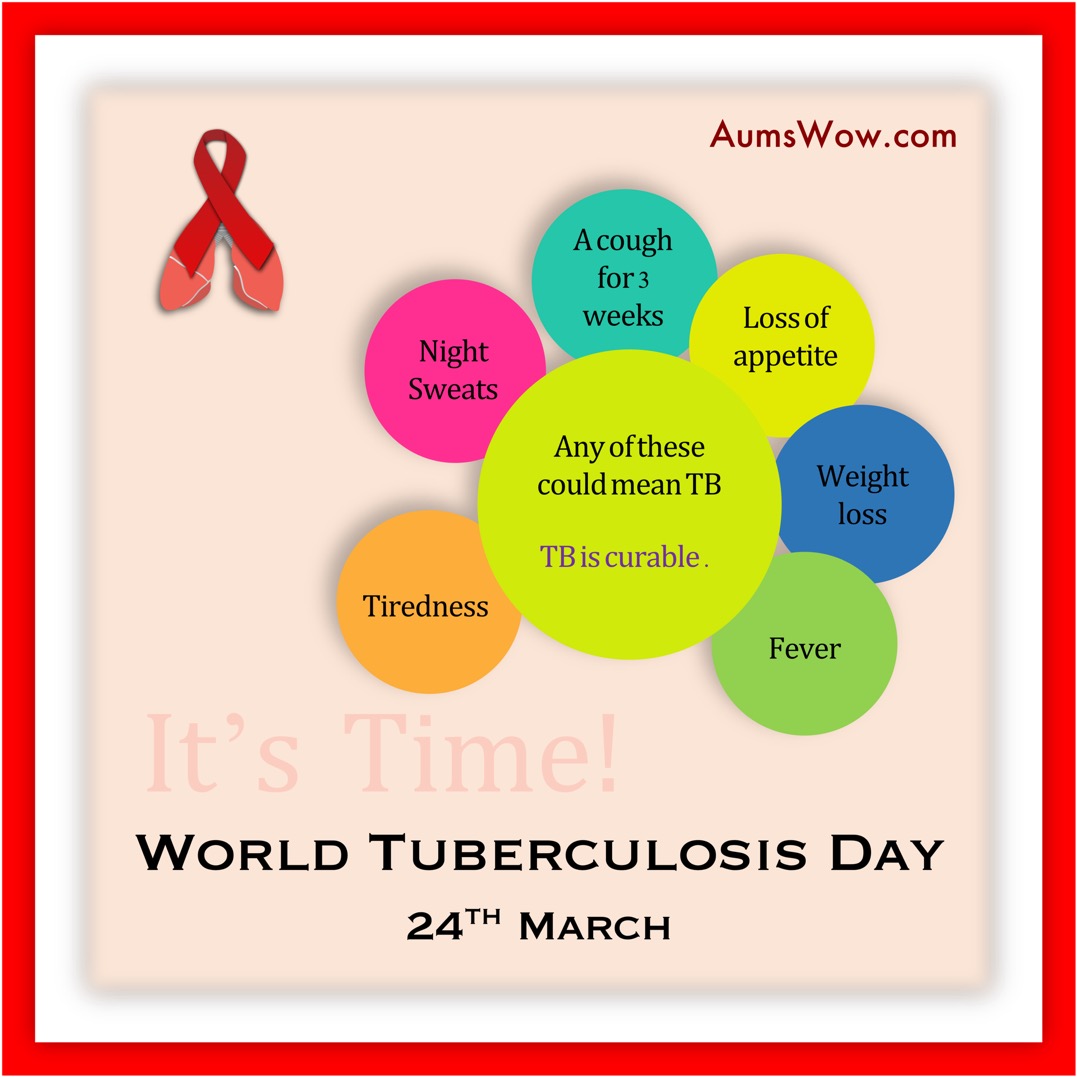 About Post
Title :
World Tuberculosis (TB) Day
Objective :
To raise awareness & devote a day to educate the public about the impact of TB around the world.
Colour Scheme :
Red & red shades; the colour of ribbon dedicated to TB.
Focus I :
Presentation of symptoms that causes Tuberculosis (TB).
Focus II :
Red Ribbon & Lungs; as it is the representative of Tuberculosis.
Focus III :
The semi transparent Text saying "It's Time"; as this is the 2019 theme for World TB day.
Misc. :
TB bacteria are spread through the air from one person to another. The TB bacteria are put into the air when a person with TB disease of the lungs or throat coughs, speaks, or sings. People nearby may breathe in these bacteria and become infected.
Significance
Date :
24th March
Related to :
Awareness about Tuberculosis and efforts to eliminate the disease.
Connect Date :
24 March 1982
Connect Place :
International Union Against Tuberculosis and Lung Disease / WHO
Special 1 :
World TB Day is one of eight official global public health campaigns marked by the World Health Organization (WHO).
Special 2 :
TB disease in the lungs or throat can be infectious. This means that the bacteria can be spread to other people. TB in other parts of the body, such as the kidney or spine, is usually not infectious.
More Info :
Every 3 seconds a new infection happens, 30% of the world's population is infected & every 21 seconds someone dies of TB.
Back