23rd Mar 2019: Shaheed Diwas (Martry's Day)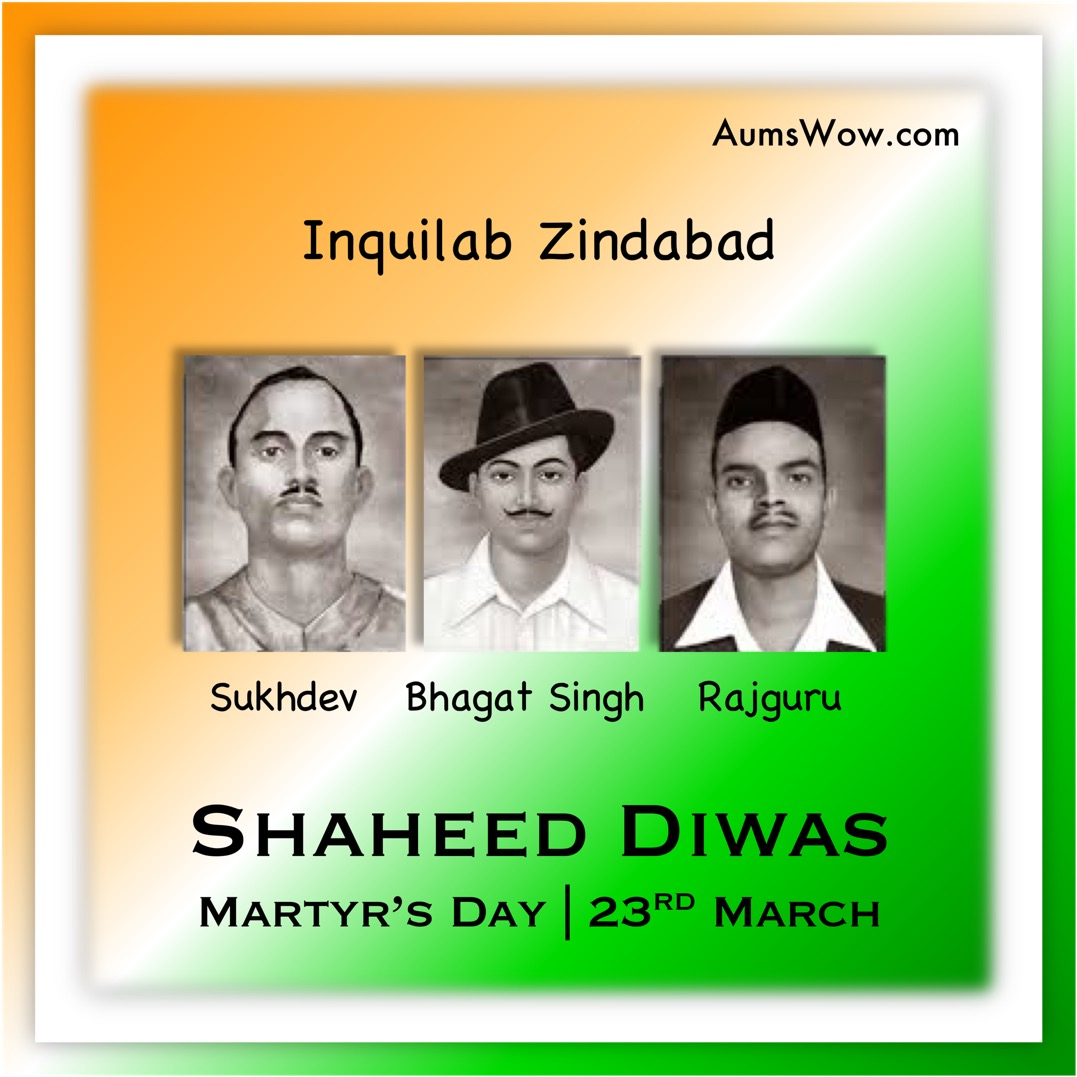 About Post
Title :
Shaheed Diwas
Objective :
To pay homage to the freedom fighters (Bhagat Singh, Sukhdev Thapar & Shivaram Rajguru), who fought & sacrificed their lives for the freedom, glory, welfare and progress of India.
Colour Scheme :
Tricolor, they deserve this honour.
Focus I :
Pictures of Shaheed Bhagat Singh, Shaheed Sukhdev Thapar & Shaheed Shivaram Rajguru.
Focus II :
Tricolor; the symbol of India.
Misc. :
The anniversary of the deaths of Bhagat Singh, Sukhdev Thapar and Shivaram Rajguru on 23 March 1931, in Lahore (Pakistan), is declared to be Martyr's Day.
Significance
Date :
23rd March
Related to :
Sacrifice of 3 freedom frighter in the procecss of freedom of India.
Connect Date :
23 March 1931
Connect Place :
Lahore, Pakistan.
Special 1 :
Bhagat Singh, Rajguru & Sukhdev were sentenced to death and the execution date was fixed to 24th March 1931. The Congress and Gandhi made some attempts to save the lives but went in vain. So, on 17th March, a telegram was sent to Home Dept preponing the execution date to 23rd March, and was hanged to death at 7.30pm on 23rd March 1931.
Special 2 :
The sacrifice of such martyrs which motivated other freedom fighters to relentlessly persuade the movement which finally resulted in Indian Independence.
More Info :
Every year, 23rd March is observed as Martyrs' Day in honor of Bhagat Singh, Rajguru & Sukhdev. A salute to our martyrs for giving up their lives during freedom struggle so that subsequent generations could live in peace & prosperity. Jai Hind.
Back