16th Dec 2019: Indian Day of Victory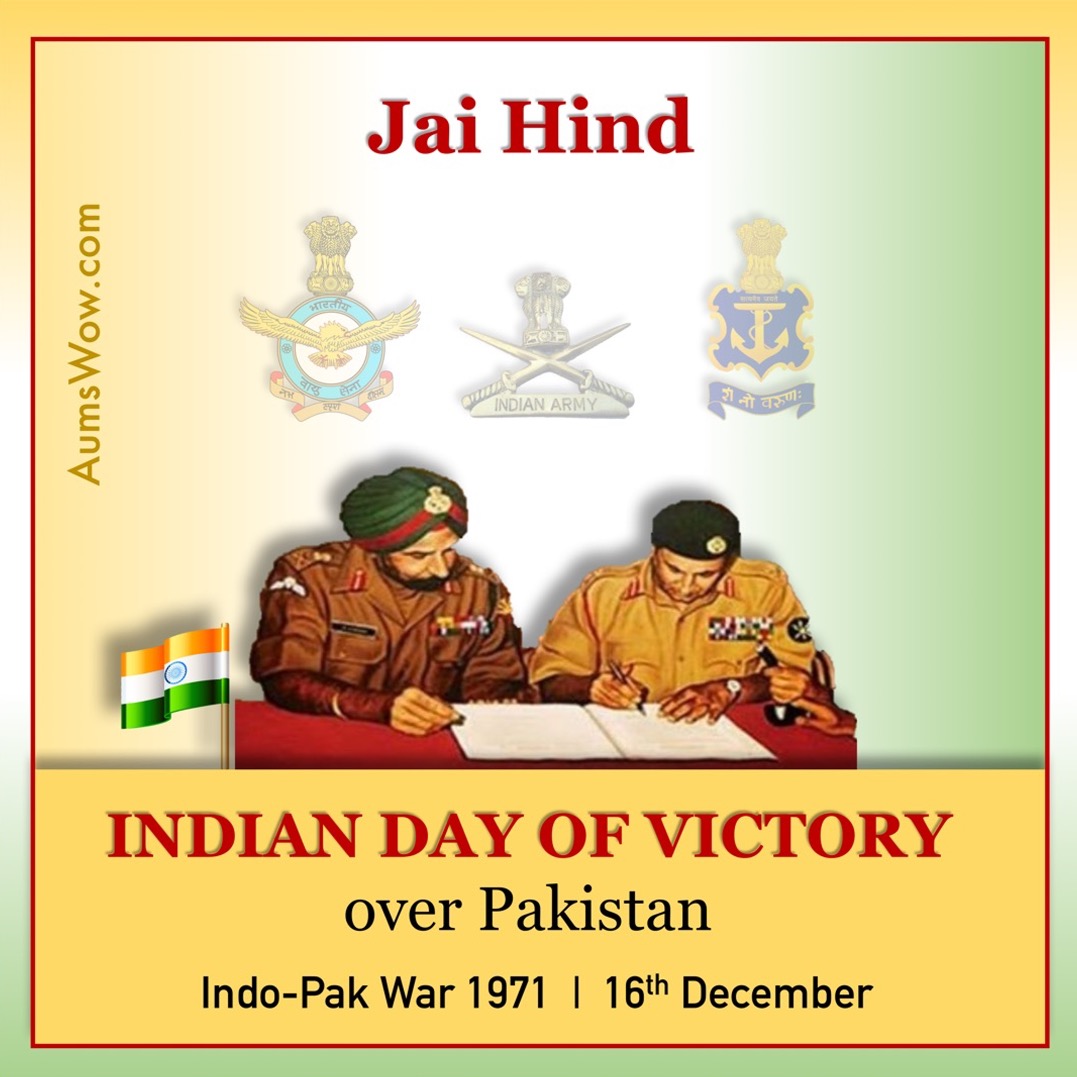 About Post
Title :
Indian Day of Victory
Objective :
Paying tributes to the martyrs who laid down their lives for the nation in the victory over Pakistan in Indo-Pak War 1971.
Colour Scheme :
Tiranga (Tricolor) our national flag's shades in background.
Focus I :
The Picture of India's Lt. General Jagjit Singh Aurora (Indian Army ) & Pakistan's Lt. General A. A. K. Niazi Signing of the Pakistani Instrument of Surrender
Focus II :
All three (Air Force, Army & Navy) Indian armed forces' Emblems.
Significance
Date :
16th December
Related to :
The victory of our Nation (India) over Pakistan in 1971, where our brave soldiers fought & made the enemy surrender; that war is recalled as Indo-Pak War, 1971.
Connect Date :
16 December 1971
Connect Place :
Dhaka, Bangladesh (Present).
Special 1 :
In the nation's capital New Delhi, the Indian Minister of Defence and heads of all three wings of the Indian armed forces pay homage at Amar Jawan Jyoti at India Gate in New Delhi as well as in the National Military Memorial, Bangalore.
Special 2 :
It is the shortest war in the History, that ended with a conclusion in 13 days.
Special 3 :
On this day, In 1971, 93,000 members of Pakistani troops raised white flags and surrendered to Indian Army and Mukti Bahini, calling an end to the war.
More Info :
It is also the Independence Day of Bangladesh.
Back