31st Mar 2019: Anandi Gopal Joshi Birth Anniversary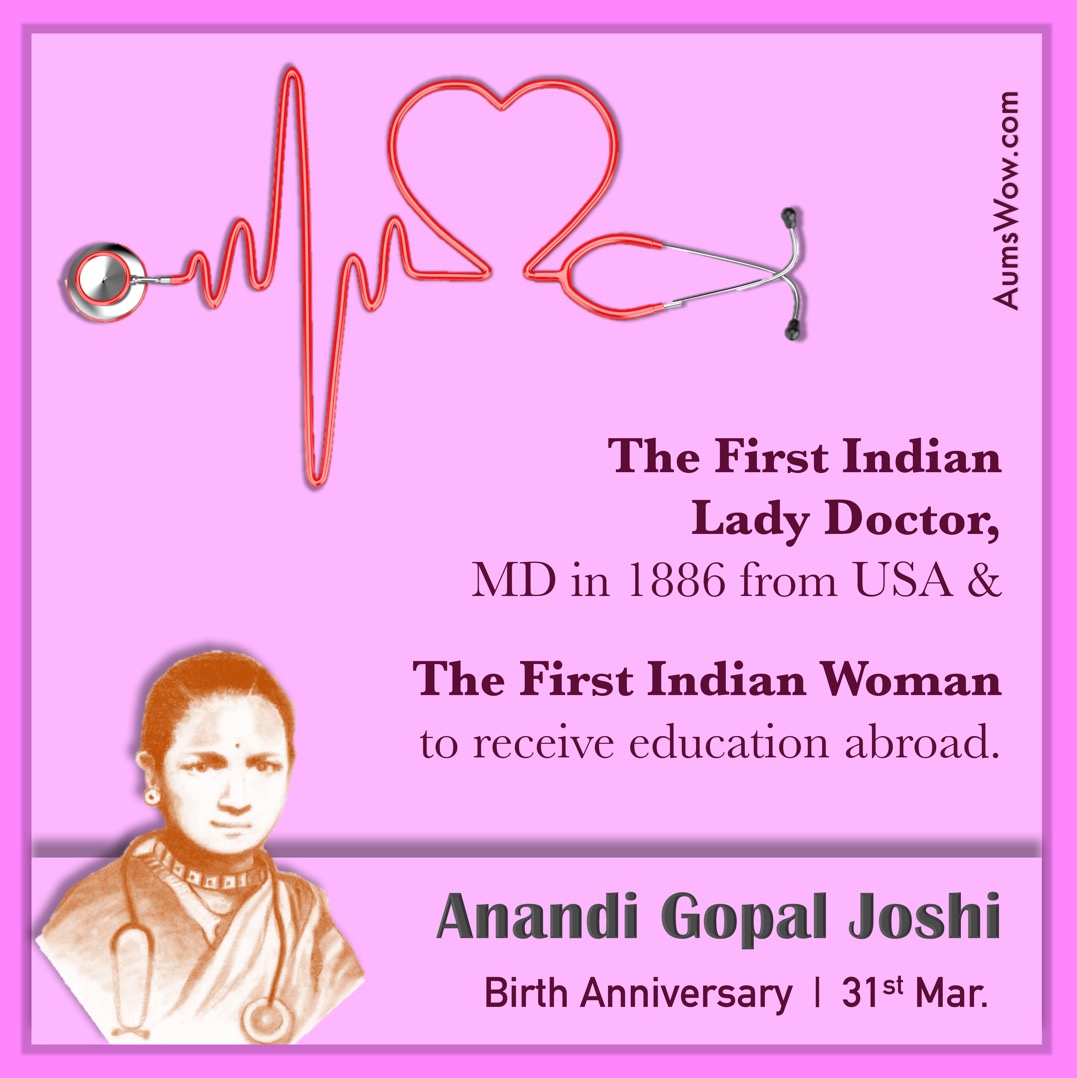 About Post
Title :
Anandi Gopal Joshi Birth Anniversary
Objective :
To let the people know about the great achievement of Anandi Gopal Joshi Birth Anniversary; the first Indian lady doctor
Colour Scheme :
Pink, the colour of women power.
Focus I :
The stethoscope, represnets the medical professionals in general.
Focus II :
The profile photo of Anandi Gopal Joshi.
Misc. :
She was also the first Indian Woman to study abroad.
Significance
Date :
31st March
Related to :
Anandi Gopal Joshi Birth Anniversary
Connect Date :
31 March 1865
Connect Place :
Kalyan, Maharashtra, India
Special 1:
Originally named Yamuna, Joshi was born, raised and married in Kalyan. As was the practice at that time and due to pressure from her mother, she was married at the age of nine to Gopalrao Joshi, a widower almost twenty years older than her. After marriage, Yamuna's husband renamed her 'Anandi'. He was a progressive thinker, and, unusually for that time, supported education for women. Unlike other husbands of his time who beat their wives for not cooking, for example, Gopalrao beat his young wife for not studying because he was focused on the idea that his wife would go to medical school. At the age of fourteen, Anandibai gave birth to a boy, but the child lived only for ten days for lack of medical care. This proved to be a turning point in Anandi's life and inspired her to become a physician
Her husband encouraged her to study medicine. In 1880 he sent a letter to Royal Wilder, a well-known American missionary, stating his wife's interest in studying medicine in the United States and inquiring about a suitable post in the US for himself. Wilder published the correspondence in his Princeton's Missionary Review. Theodicia Carpenter, a resident of Roselle, New Jersey, happened to read it while waiting to see her dentist. Impressed by both Anandibai's desire to study medicine, and Gopalrao's support for his wife, she wrote to Anandibai. Carpenter and Anandibai developed a close friendship and came to refer to each other as "aunt" and "niece." Later, Carpenter would host Anandibai in Rochelle during Joshi's stay in the U.S.
Special 2:
On learning of Anandibai's plans to pursue higher education in the West, orthodox Indian society censured her very strongly. Anandibai addressed the community at Serampore College Hall, explaining her decision to go to America and obtain a medical degree. She discussed the persecution she and her husband had endured. She stressed the need for female doctors in India, emphasizing that Hindu women could better serve as physicians to Hindu women. Her speech received publicity, and financial contributions started pouring in from all over India.
Anandibai travelled to New York from Kolkata (Calcutta) by ship. Anandibai began her medical training at age 19. In America, her health worsened because of the cold weather and unfamiliar diet. She contracted tuberculosis. Nevertheless, she graduated with an MD in March of 1886; the topic of her thesis was "Obstetrics among the Aryan Hindoos." The thesis utilized references from both Ayurvedic texts and American medical textbooks. On her graduation, Queen Victoria sent her a congratulatory message.
More Info :
In late 1886, Anandibai returned to India, receiving a grand welcome. The princely state of Kolhapur appointed her as the physician-in-charge of the female ward of the local Albert Edward Hospital. Anandibai died of tuberculosis early the next year on 26 February 1887 before turning 22. Her death was mourned throughout India. Her ashes were sent to Theodicia Carpenter, who placed them in her family cemetery at the Poughkeepsie Rural Cemetery in Poughkeepsie, New York. The inscription states that Anandi Joshi was a Hindu Brahmin girl, the first Indian woman to receive education abroad and to obtain a medical degree. The legacy of Anandi Gopal Joshi are as follows:
In 1888, American feminist writer Caroline Wells Healey Dall wrote Joshi's biography.
Doordarshan, an Indian public service broadcaster aired a Hindi series based on her life, called "Anandi Gopal".
The Institute for Research and Documentation in Social Sciences (IRDS), a non-governmental organization from Lucknow, has been awarding the Anandibai Joshi Award for Medicine in honour of her early contributions to the cause of advancing medical science in India.
The Government of Maharashtra has established a fellowship in her name for young women working on women's health.
A crater on Venus has been named in her honour. The 34.3 km-diameter crater on Venus named 'Joshee' lies at latitude 5.5° N and longitude 288.8° E.
On March 31, 2018, Google honored her with a Google Doodle to mark her 153rd birth anniversary.
A film on her life in Marathi has been made in 2019 as Anandi Gopal.
Back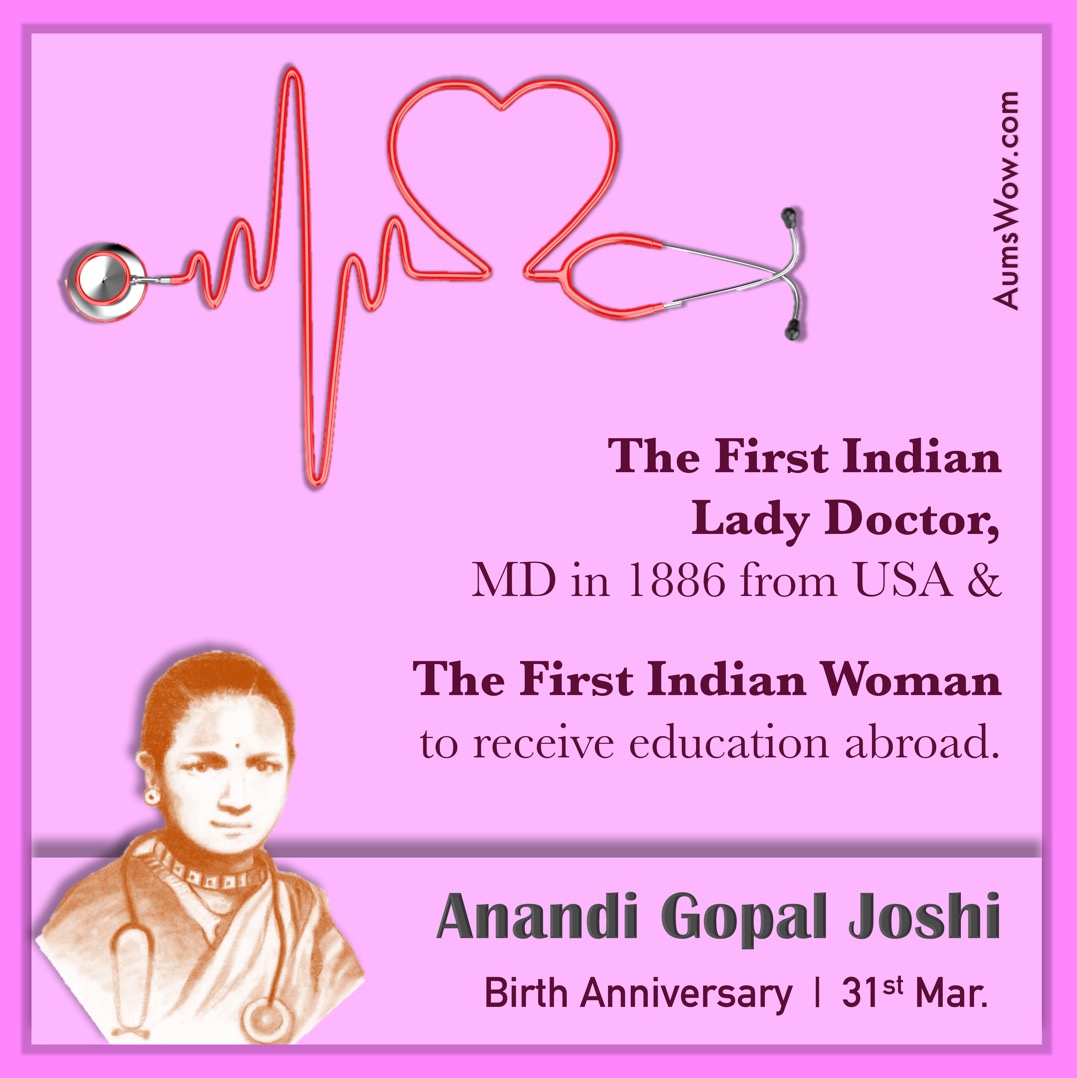 Courtesy: YouTube