6th Jan 2019: AR Rahman Birthday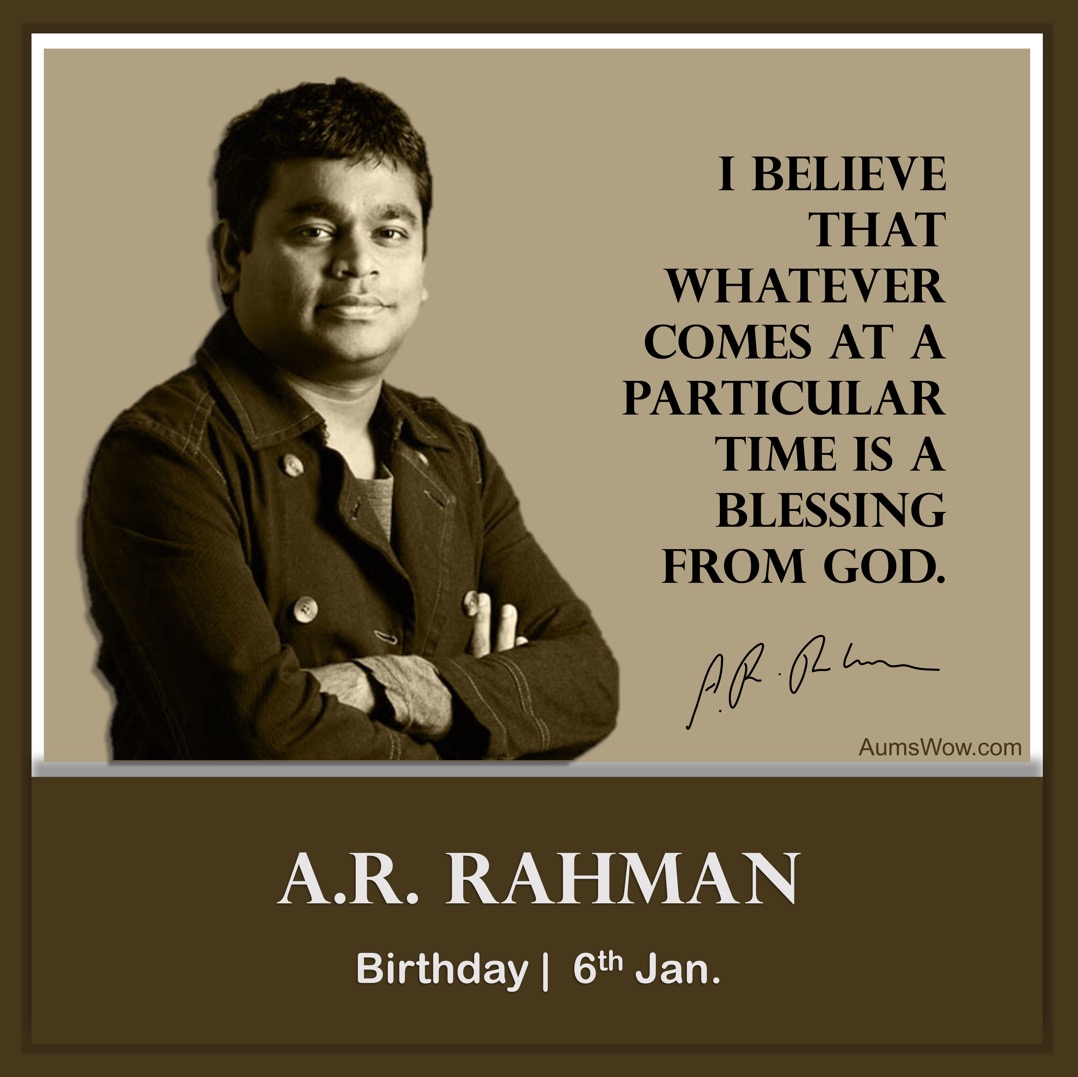 About Post
Title :
AR Rahman Birthday
Objective :
To let people know about the great personality - A.R. Rahman.
Colour Scheme :
Olive. (nothing significant here about)
Focus I :
Picture portrait of Mr. Rahman
Focus II :
Quate said by A.R. Rahman.
Misc. :
A.R. Rahman - The Grammy, The Academy and British Academy of Film and Television Arts (BAFTA) Award Winner.
Significance
Date :
6th January
Related to :
Birthday of A.R. Rahman
Connect Date :
6th January 1967.
Connect Place :
Madras (now Chennai), India.
Special :
A.R. Rahman, in full Allah Rakha Rahman, original name A.S. Dileep Kumar, (born January 6, 1966, Madras [now Chennai], India), Indian composer whose extensive body of work for film and stage earned him the nickname "the Mozart of Madras.
Rahman's father, R.K. Sekhar, was a prominent Tamil musician who composed scores for the Malayalam film industry, and Rahman began studying piano at age four. The boy's interests lay in electronics and computers, and his father's serendipitous purchase of a synthesizer allowed him to pursue his passion and to learn to love music at the same time. Sekhar died when Rahman was 9 years old, and by age 11 he was playing piano professionally to help support his family. He dropped out of school, but his professional experience led to a scholarship to study at Trinity College, Oxford, where he received a degree in Western classical music.
In 1988, his family converted to Islam following a sister's recovery from a serious illness, and he then took the name Allah Rakha Rahman. He grew bored with playing in bands and eventually turned his talents toward creating advertising jingles. He wrote more than 300 jingles and would later say that the experience taught him discipline because jingle writing required delivery of a powerful message or mood in a short time. In 1991, while at a ceremony to receive an award for his work on a coffee advertisement, Rahman met Bollywood film director Mani Ratnam, who persuaded him to write music for motion pictures. Their first project was Roja (1992), which resulted in Rahman's first film soundtrack hit. More than 100 movie scores followed, including the music for Lagaan (2001), the first Bollywood film nominated for an Academy Award. Rahman's albums sold more than 100 million copies.
More Info :
He collected a British Academy of Film and Television Arts (BAFTA) Award for best music as well as a Golden Globe and an Academy Award for best score. He also won the Academy Award for best song for "Jai Ho," a Latin-infused dance track that accompanied the film's closing Bollywood-style dance number. Rahman's streak continued at the Grammy Awards in 2010, where he collected the prize for best soundtrack and "Jai Ho" was again honoured as best song appearing on a soundtrack. Information Credit Britannica; Picture Credits - Aumswow!
Back