12th Dec 2018: Sita-Ram Vivah Utsav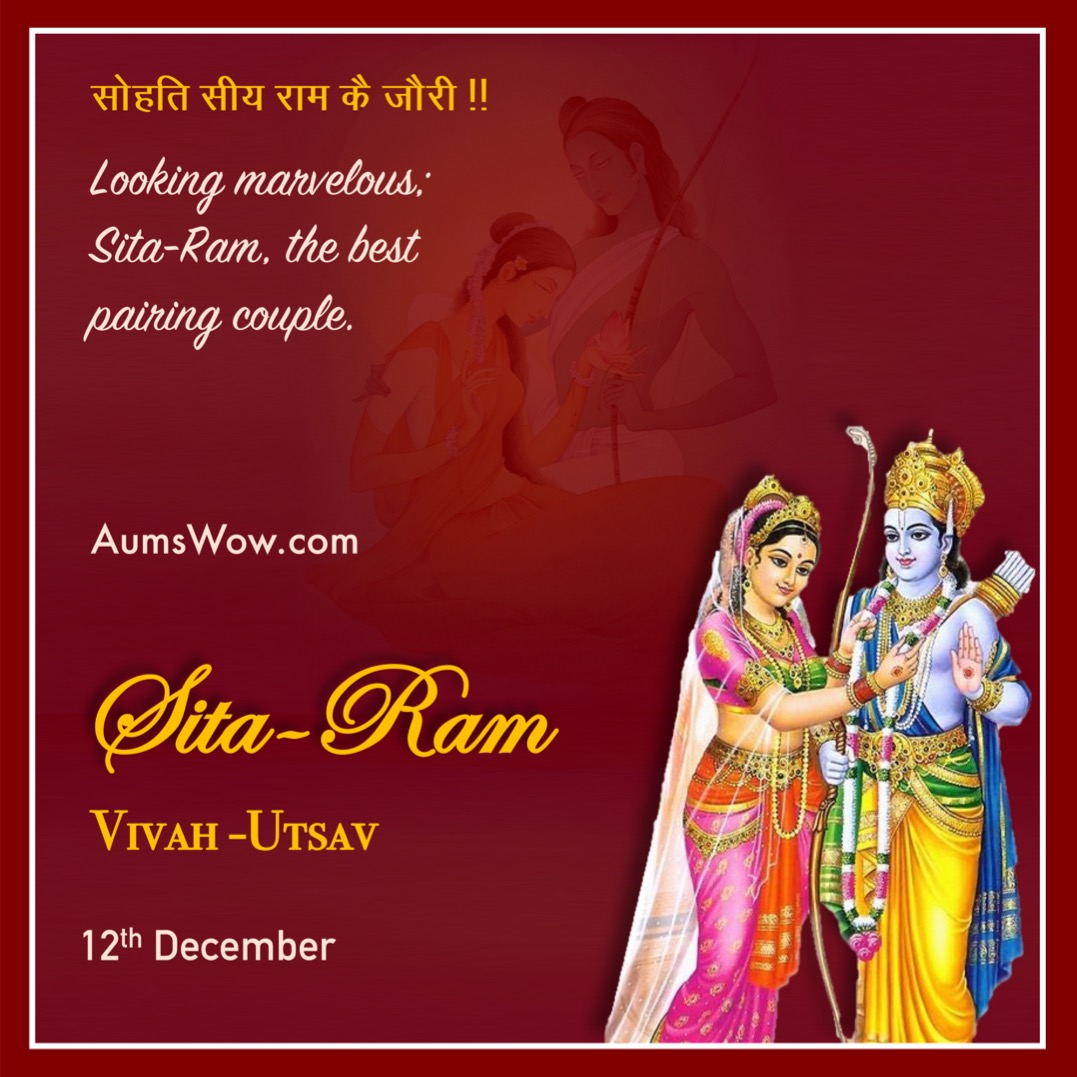 About Post
Title :
Sita-Ram Vivah Utsav
Objective :
To make the people aware about Sita-Ram Wedding Anniversary
Colour Scheme :
Dark Red; the auspicious colour for wedding etc.
Focus I :
The wedding pic of Sita-Ram.
Focus II :
The background pic of Sita-Ram with each other.
Focus III :
The 'Choupai' (Stanga) of Ramayan describing the joyous scenario of Sita-Ram wedding.
Significance
Date :
12th December
Related to :
Marriage Anniversary of Sita-Ram.
Connect Date :
It is observed on the fifth day of the Shukla paksha or waxing phase of moon in the Agrahayana month (November – December) as per Maithili calendar.
Connect Place :
Janakpuri, Nepal; Wedding
Special 1:
Sita-Ram Vivah Utsav or Vivah Panchami is a festival celebrating the wedding of Rama and Sita.
Special 2:
The day is of great importance at Janakpurdham in Nepal, where thousands of pilgrims arrive many from India and from other part of the country, as it is believed that Sita got married to Lord Ram (Prince of Ayodhya) here.[
More Info :
Indian wedding is not just a ritual but actually a phase when a Hindu steps into, 'Grahast Ashram' – the worldly life of being married. This Hindu ritual draws inspiration from the wedding of Ram-Sita, a couple who is considered perfect in all senses and a wedlock that had absolutely no flow at all.
Back