25th Nov 2018: National Cadet Corps (NCC) Day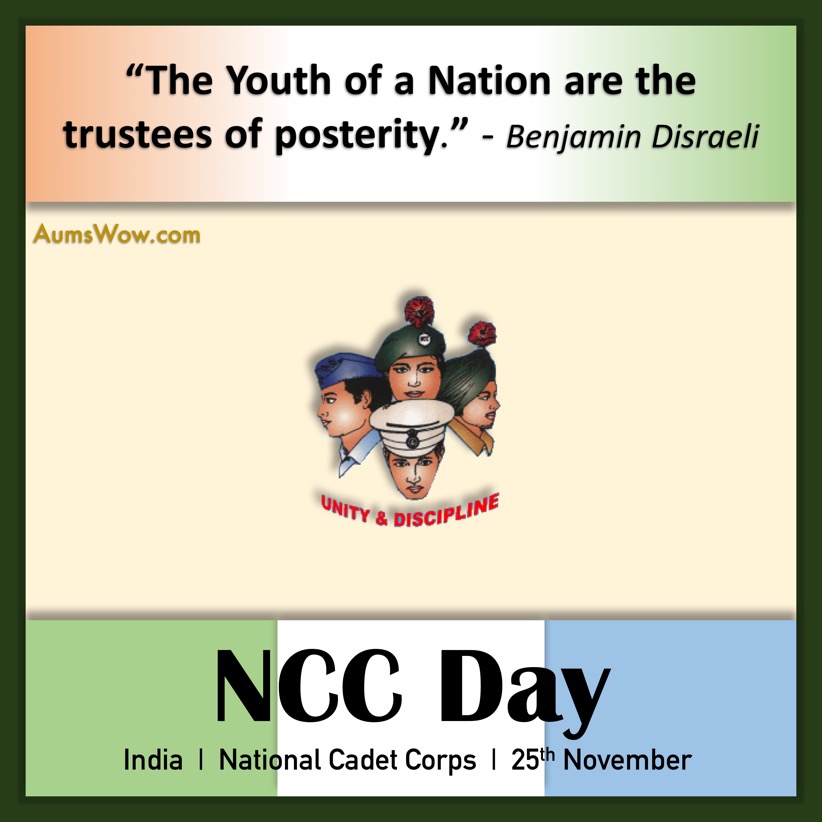 About Post
Title :
National Cadet Corps (NCC) Day
Objective :
To make people aware about the patriotic youth organistion NCC
Colour Scheme :
Dark Green (For Indian Army), white (for Indian Navy) and Blue (For Indian Air Force).
Focus I :
NCC cadets indicating Tri-forces; and girls also the important part of it.
Focus II :
The triclolour banner of India and another tricolour banner of triforces viz. Army, Navy and Air Force.
Significance
Date :
25th November
Related to :
National Cadet Corps (NCC), India
Connect Date :
4th Sunday of November since 1948 (Actually estabished on 15 July 1948)
Connect Place :
India
Special 1 :
The National Cadet Corps in India is a voluntary organization which recruits cadets from high schools, colleges and universities all over India. The Cadets are given basic military training in small arms and parades. The officers and cadets have no liability for active military service once they complete their course.
Special 2 :
National Cadet Corps is a Tri-Services Organization, comprising the Army, Navy and Air Force, engaged in grooming the youth of the country into disciplined and patriotic citizens.
More Info :
On 13th September 1965, Four Pakistani Planes bombed and strafed a goods train carrying diesel oil and other explosive materials at Gurdaspur Railway station, setting fire to the wagon containing diesel oil. The burning oil threw out huge flames and the entire area surrounding the railway track was shrouded by a thick cloud of smoke causing panic and confusion in the locality. Collecting about 59 other NCC cadets, Sergeant Pratap Singh (No: 1148011) rushed to the scene of the fire. Unmindful of their personal safety, under the inspiring leadership of Sgt Pratap Singh, the Cadets set themselves to the task of detaching the unaffected wagons from the burning wagons and pushing the burning wagons away to a safe distance. 
Back