11th Dec 2018: International Mountain Day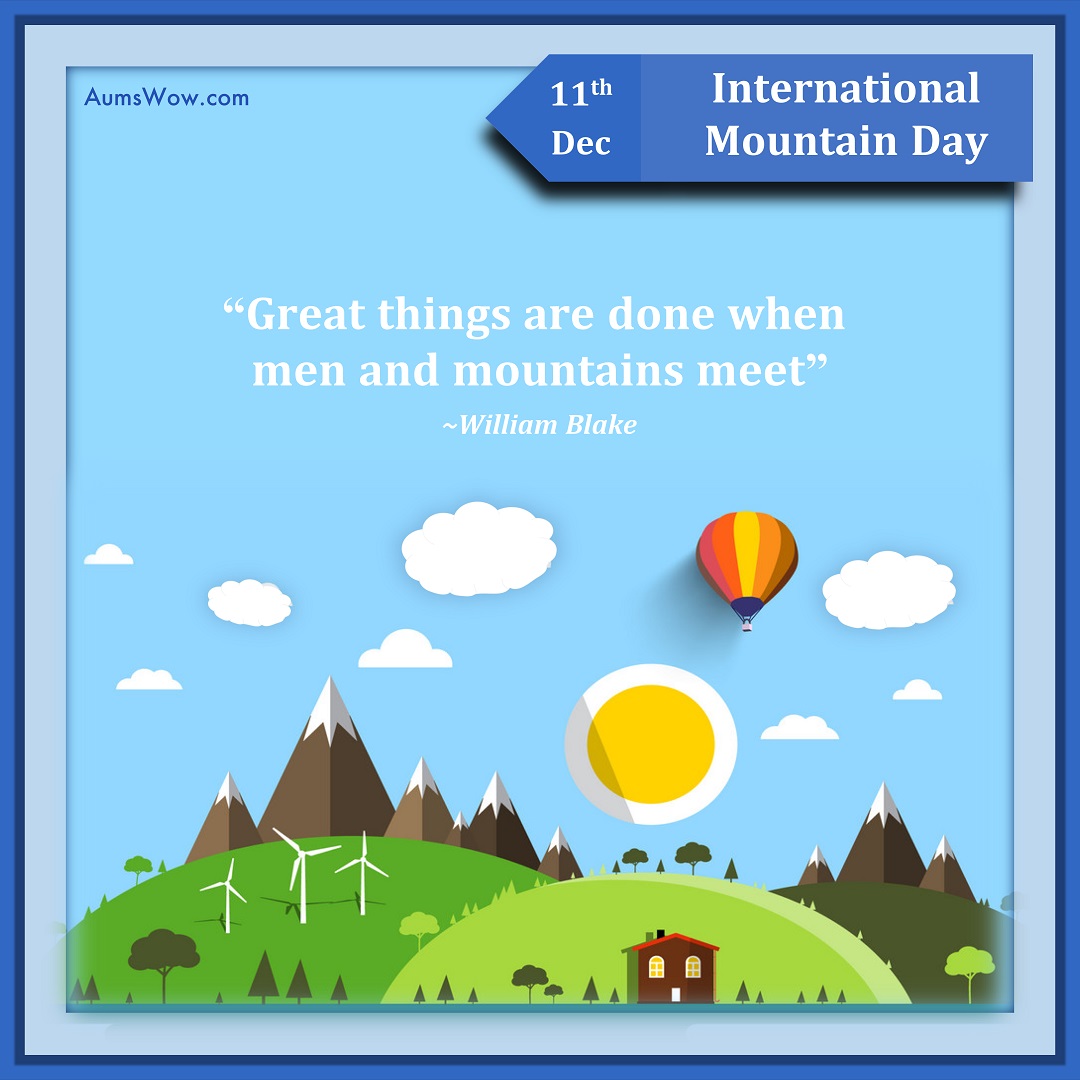 About Post
Title :
International Mountain Day
Objective :
To spread awareness about the importance of mountains to life, to highlight the opportunities and constraints in mountain development.
Colour Scheme :
Baby Blue & Egyptian Blue; As the mountains & sky are represented with blue shades.
Focus I :
The Picture; in which the focus is on the mountains covered with snow, greenery & the activities (Hot Air balloon) that takes place in the mountain area.
Focus II :
The Quotation; as it itself says when people take initiative & a step, great things can happen surely.
Misc. :
The Direction Sign Tag in Blue; shows the direction which annouces 'International Mountain Day' with the Date.
Significance
Date :
11th December
Related to :
Importance of Mountains in every aspect of global living being's life; To create a large social movement that can bring mountain issues on the tables of politicians.
Connect Date :
11 December 2003; International Mountain Day was designated by the United Nations General Assembly in 2003 and has been celebrated annually since then.
Connect Place :
United Nations (UN)
Special 1 :
International Mountain Day 2014 provides an occasion to highlight how family farming in mountain regions is undergoing rapid transformation due to population growth, economic globalization, urbanization and the migration of men and youth to urban areas.
Special 2 :
These changes can provide opportunities for local development. People who reside in mountain areas can diversify their income by engaging activities such as tourism, high value mountain products and handicrafts.
More Info :
International Mountain Day is "observed every year with a different theme relevant to sustainable mountain development. FAO is the U.N. organization mandated to lead observance of International Mountain Day.