23rd Nov 2018: Happy Gurupurab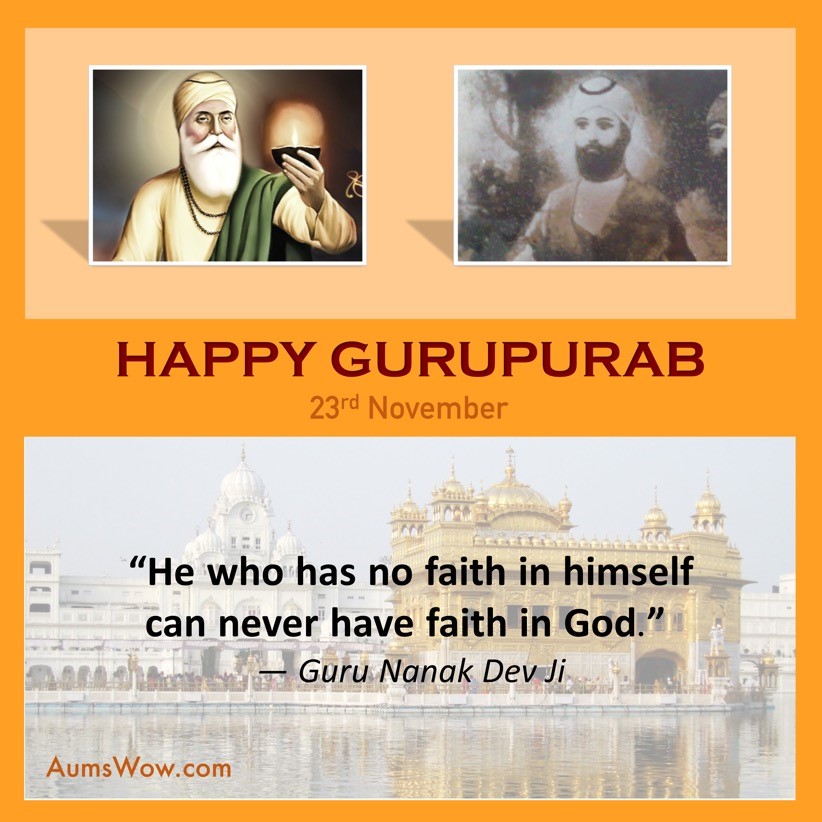 About Post
Title :
Happy Gurupurab
Objective :
549th birth anniversary of Guru Nanak ji.
Colour Scheme :
Saffron; the colour of Saints dress and that is of rising sun as well.
Focus I :
Gurunanak ji focusing on lamp saying, "Ek noor se sab jag upjaya" means that entire world has only one source.
Focus II :
Rarest photo of Sh. Gurunanak ji, reportidely the real one.
Focus III :
The quote by Sh. Guru Nanak ji emphasising on the faith in oneself to attain the supreme.
Misc. :
In Background, the Golden Temple also known as Sri Harmandir Sahib ("abode of God") or Darbar Sahib "exalted holy court", is a Gurdwara located in the city of Amritsar, Punjab, India. It is the holiest Gurdwara and the most important pilgrimage site of Sikhism.
Significance
Date :
23rd November
Related to :
Gurpurab or Guru Nanak Jayanti is the celebration of the birth of the first Sikh Guru, Guru Nanak, who laid the foundation of Sikhism.
Connect Date :
Kartik Purnima (Fullmoon) in 1469.
Connect Place :
Talwandi, a village about 65 kilometers west of Lahore, now in Pakistan.
Special :
He set up a unique spiritual, social, and political platform based on equality, fraternal love, goodness, and virtue. His words are enshrined as 974 poetic hymns in the Guru Granth Sahib.
More Info :
Guru Nanak ji came in contact with Mardana, a Muslim servant. Together they organised gatherings for Hindus and Muslims where they sang hymns to praise the creator. He said that a constant remembrance of God, called naamsimran, is the only way to liberation.
Back