28th Dec 2018: Dhirubhai Ambani Birthday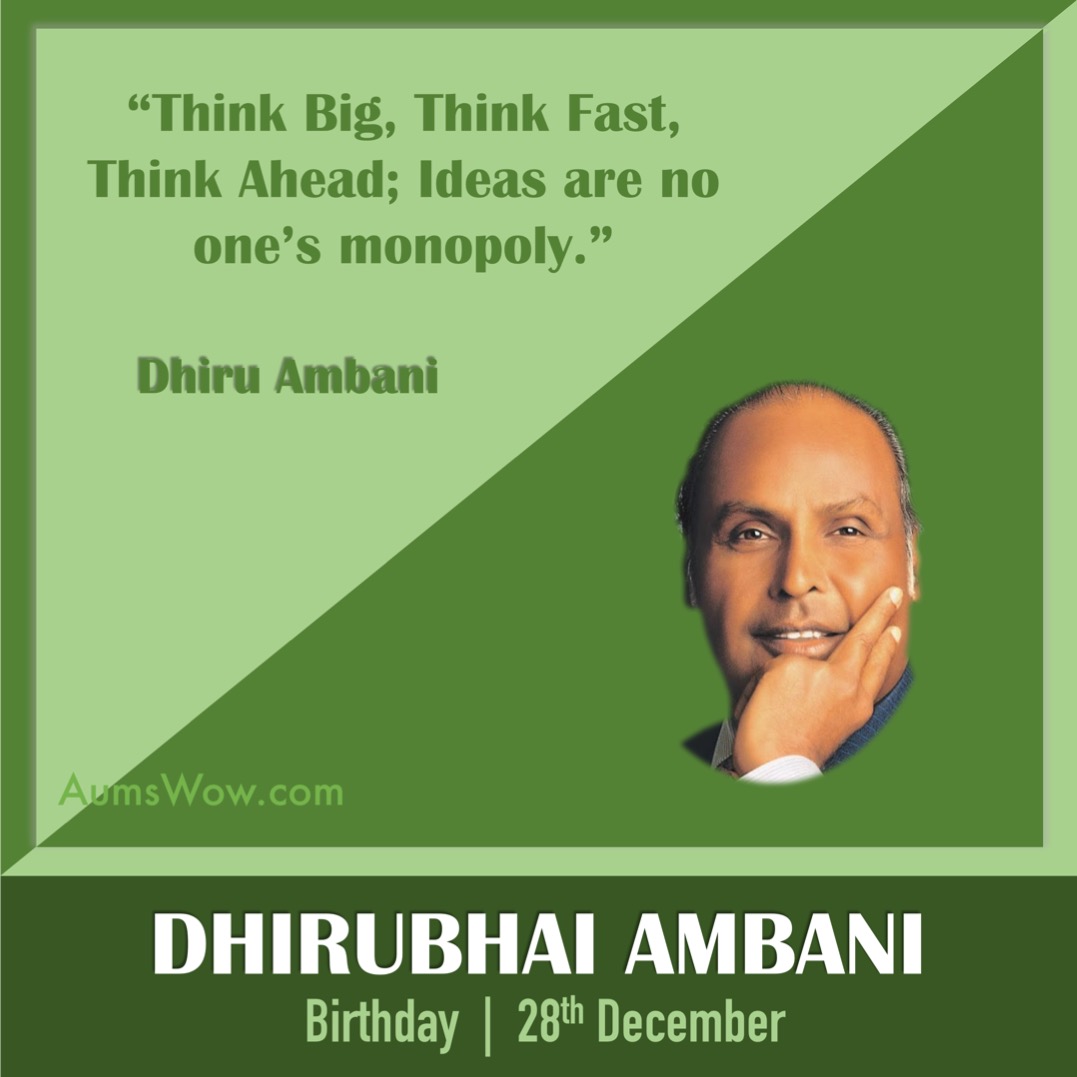 About Post
Title :
Dhirubhai Ambani Birthday
Objective :
To make the people aware about legendary Entrepreneur i.e Dhirubhai Ambani.
Colour Scheme :
The Greenish, which represents the dollar colournad hence the wealth.
Focus I :
The close up pic of Dhirubhai Ambani.
Focus II :
The famous quote by the legand.
Misc. :
The coincidence that two business legends (Ratan Tata & Dhirubhai Ambani) having different (Opposite) approaches towards running the business, successful business; shares their birthday.
Significance
Date :
28th December
Related to :
Birthday of Dhirubhai Ambani (Born as Dhirajlal Hirachand Ambani)
Connect Date :
28 December 1932
Connect Place :
Chorwad, Junagadh State, (now in Gujarat, India)
Special 1:
Dhirubhai Ambani was one of the sons of a village schoolteacher belonging to the Modh community. He migrated to the then British colony of Aden at age 17 where his brother was working. He initially served as a clerk at A. Besse & Co., which then was the largest transcontinental trading firm east of Suez. He worked as a employer in Yemen . He then came to India with ₹1000 and started a textile trading company Reliance Industries in 1977. The first office of the Reliance Commercial Corporation was set up at the Narsinatha Street in Masjid Bunder. It was a 350 sq ft (33 m2) room with a telephone, one table and three chairs. Initially, they had two assistants to help them with their business.
Special 2:
As of 2017, the company has more than 250,000 employees. In 2012, Reliance Industries was one of the two Indian companies to be ranked among the top 100 in the Fortune 500 list of the world's largest companies by revenue.
More Info :
The list goes here:
January 2016- Awarded Padma Vibhushan, the country's second-highest civilian award posthumously.
October 2011-Awarded posthumously the ABLF Global Asian Award at the Asian Business Leadership Forum Awards.
November 2000–Conferred Man of the Century award by Chemtech Foundation and Chemical Engineering World in recognition of his outstanding contribution to the growth and development of the chemical industry in India.
2000, 1998 and 1996– Featured among Power 50-the most powerful people in Asia by Asiaweekmagazine
June 1998 – "Dean's Medal" by The Wharton School, University of Pennsylvania, for setting an outstanding example of leadership. Dhirubhai Ambani has the rare distinction of being the first Indian to get Wharton School Dean's Medal.
August 2001 – Economic Times Awards for Corporate Excellence for Lifetime Achievement.
Dhirubhai Ambani was named the "Man of 20th Century" by the Federation of Indian Chambers of Commerce and Industry (FICCI).
A poll conducted by The Times of India in 2000 voted him "Greatest Creator of Wealth in the Centuries".
India post has released postal stamp on Dhirubhai Ambani on 28 December 2002.
Back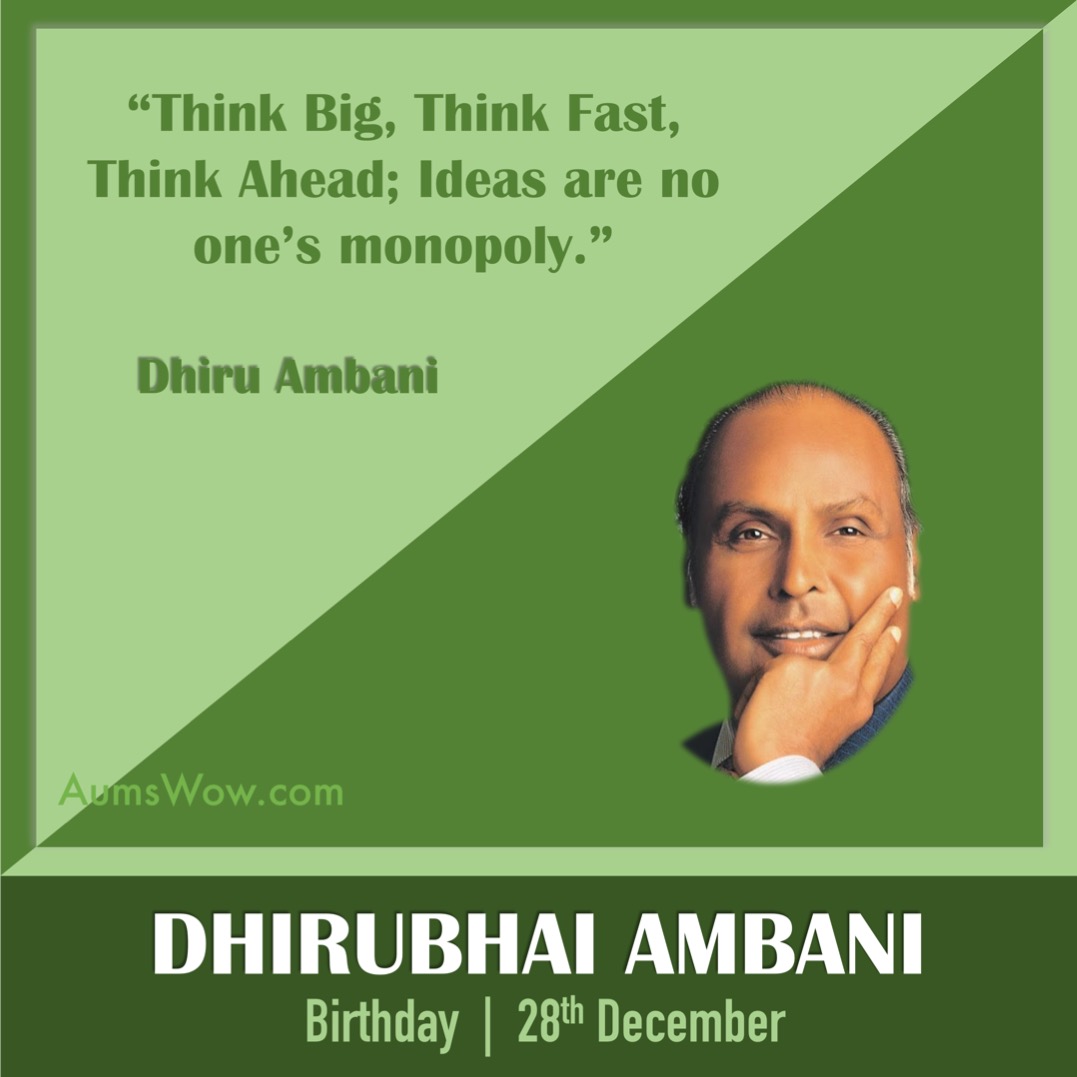 Courtesy: YouTube