26th Dec 2018: Baba Amte Birth Anniversary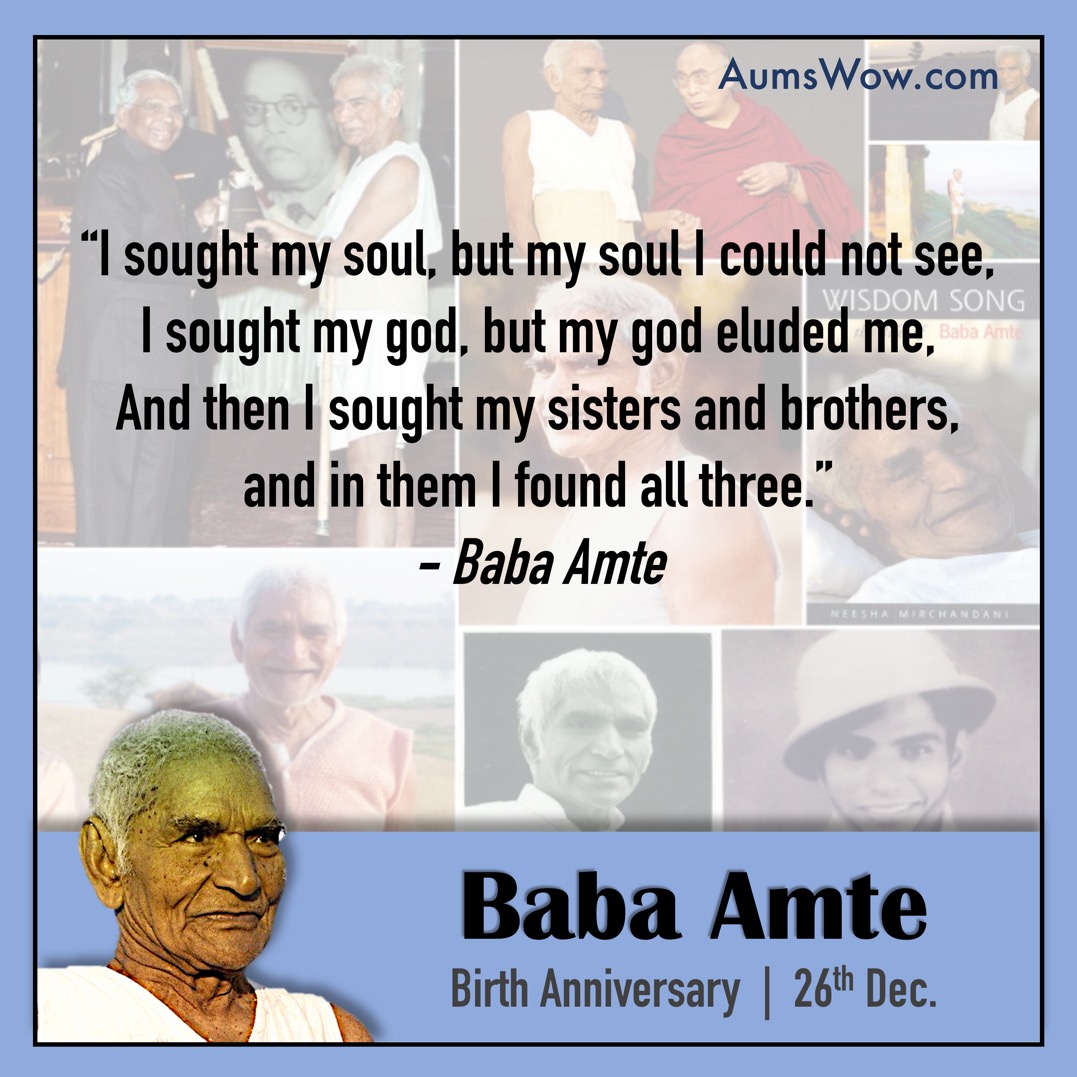 About Post
Title :
Baba Amte Birth Anniversary
Objective :
To make the people aware about the great welldoer Baba Amte.
Colour Scheme :
Blue, the colour of peace and well doing.
Focus I :
The close up pic of Baba Amte.
Focus II :
The background of Baba Amte well doings.
Misc. :
His son, Dr Prakash Baba Amte is also a great welldoer and a film is also made on his (Dr. Prakash Amte's) life-story; starring Nana Patekar as Prakash Amte and Sonali Kulkarni as Mandakini Amte. The film was released on 10 October 2014 and it has been released in three languages, Hindi, Marathi and English.
Significance
Date :
26th December
Related to :
Birth Anniversary of Murlidhar Devidas Amte, popularly known as Baba Amte.
Connect Date :
26 December 1914
Connect Place :
Hinganghat, Near Wardha, Maharashtra, India
Special 1:
He and his wife, Sadhna Amte started an organization for leprosy patients at Anandwan in 1950. Their two sons, Vikas Amte and Prakash Amte, and daughters-in-law, Mandakini and Bharati, are doctors. All four dedicated their lives to social work and causes similar to those of the senior Amte.
Special 1:
In 1990, Amte left Anandwan for a while to live along the Narmada River and joined Narmada Bachao Andolan ("Save Narmada") movement one of whose popular leaders was Medha Patkar, which fought against both unjust displacement of local inhabitants and damage to the environment due to the construction of the Sardar Sarovar dam on the Narmada river.[
More Info :
List of Awards:
Padma Shri, 1971
Ramon Magsaysay Award, 1985
Padma Vibhushan, 1986
United Nations Prize in the Field of Human Rights,1988
Gandhi Peace Prize, 1999
Rashtriya Bhushan, 1978: FIE Foundation Ichalkaranji (INDIA)
Jamnalal Bajaj Award, 1979 for Constructive Work
N.D. Diwan Award, 1980: National Society for Equal Opportunities for the 'Handicapped' (NASEOH), Bombay
Ramshastri Award, 1983: Ramshastri Prabhune Foundation, Maharashtra, India
Indira Gandhi Memorial Award, 1985: Government of Madhya Pradesh for outstanding social service
Raja Ram Mohan Roy Award, 1986: Delhi
Fr. Maschio Platinum Jubilee Award, 1987: Bombay
G.D. Birla International Award, 1988: For outstanding contribution to humanism
Templeton Prize, 1990 [Baba Amte and Charles Birch (Emeritus professor of University of Sydney)were jointly awarded the prize in 1990]
Mahadeo Balwant Natu Puraskar, 1991, Pune, Maharashtra
Adivasi Sewak Award, 1991, Government of Maharashtra
Kusumagraj Puraskar, 1991
Dr. Babasaheb Ambedkar Dalit Mitra Award, 1992, Government of Maharashtra
Shri Nemichand Shrishrimal Award, 1994
Fr. Tong Memorial Award, 1995, Voluntary Health Association of India
Kushta Mitra Puraskar, 1995: Vidarbha Maharogi Sewa Mandal, Amravati, Maharashtra
Bhai Kanhaiya Award, 1997: Sri Guru Harkrishan Education Trust, Bhatinda, Punjab
Manav Sewa Award, 1997: Young Men's Gandhian Association, Rajkot, Gujarat
Sarthi Award, 1997, Nagpur, Maharashtra
Mahatma Gandhi Charitable Trust Award, 1997, Nagpur, Maharashtra
Gruhini Sakhi Sachiv Puraskar, 1997, Gadima Pratishthan, Maharashtra
Kumar Gandharva Puraskar, 1998
Apang Mitra Puraskar, 1998, Helpers of the Handicapped, Kolhapur, Maharashtra
Bhagwan Mahaveer Award, 1998, Chennai
Diwaliben Mohanlal Mehta Award, 1998, Mumbai
Justice K. S. Hegde Foundation Award, 1998, Karnataka
Baya Karve Award, 1998, Pune, Maharashtra
Savitribai Phule Award, 1998, Government of Maharashtra
Federation of Indian Chambers of Commerce and Industry Award, 1988: FICCI, for outstanding achievements in training and placement of disabled persons
Satpaul Mittal Award, 1998, Nehru Sidhant Kendra Trust, Ludhiana, Punjab
Adivasi Sevak Puraskar, 1998, Government of Maharashtra
Gandhi Peace Prize, 1999
Dr. Ambedkar International Award for Social Change, 1999
Maharashtra Bhushan Award, 2004, Government of Maharashtra
Bharathvasa award, 2008
On 26 December 2018 his birthday, Google dedicated doodle to honor him.
Back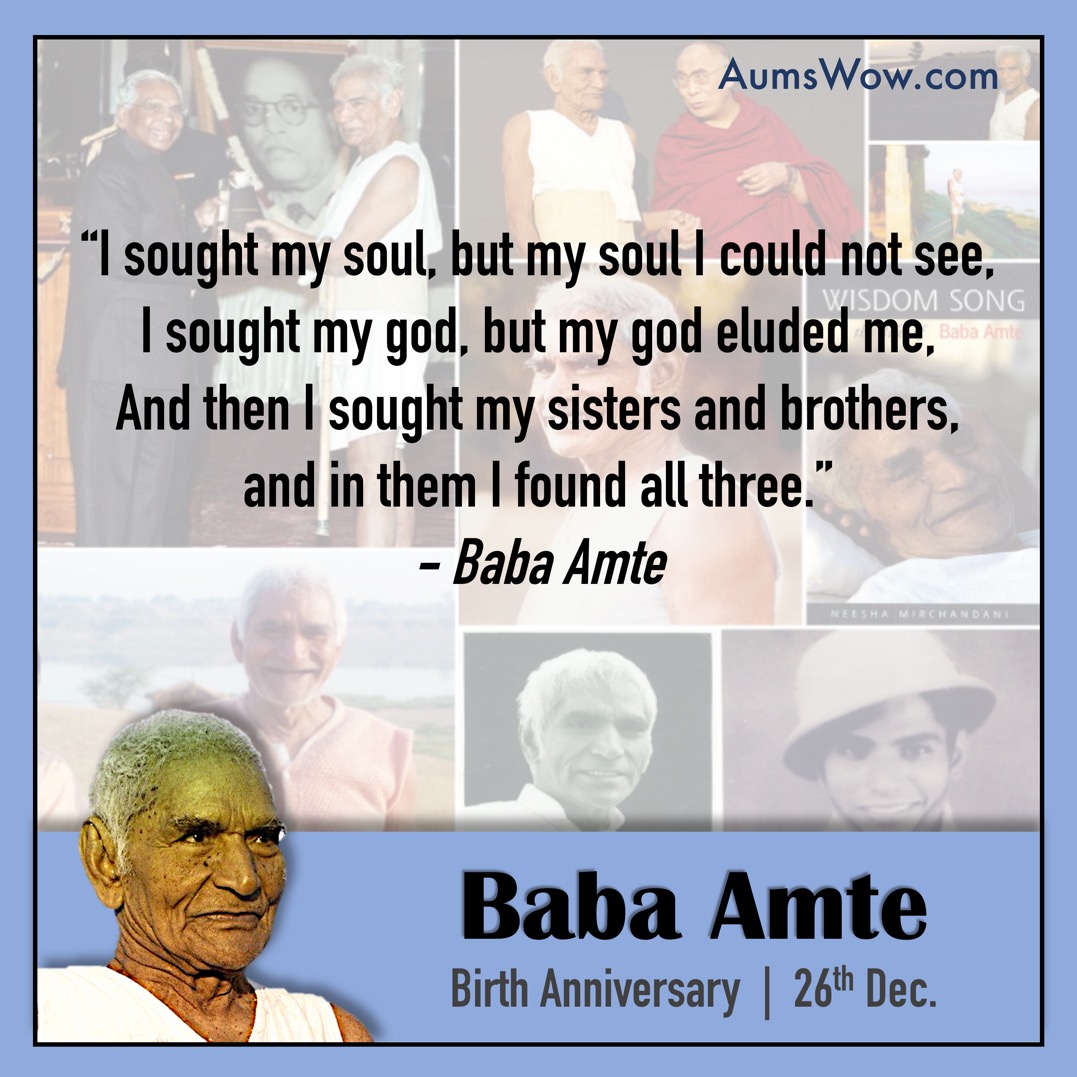 Courtesy: YouTube